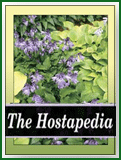 Peter Ruh of Ohio registered this sport of H. 'Regal Ruffles' in 1991. It forms a large size mound about 27 inches high and 6 feet wide with heavily rippled, deeply veined foliage. The leaves are deeply lobed at the base and have good substance. Very pale lavender flowers bloom in July.
According to The Hostapedia by Mark Zilis (2009), "...should be considered one of the best piecrust type hosta cultivars every introduced."



A catalog advertisement from Fairway Enterprises (Eldren and Nancy Minks) in Minnesota in The Hosta Journal (1994 Vol. 25 No. 1) offered the following hostas (among others): 'Banana Flip' - $100.00, 'Candle Glow' - $100.00, 'Coventry' - $100.00, 'Formal Attire' - $100.00, 'Holiday White' - $100.00, 'Mesa Fringe' - $100.00, 'Nancy Minks' - $150.00, 'Prince Albert' - $100.00, and 'Royal Highness' - $100.00.