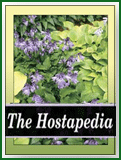 This medium size (18 inches high by 45 inches wide) plant falls into the Tardiana-type of blue-green hostas. It was registered by Mark Zilis of Illinois in 1999 as being of unidentified parentage. The foliage is intensely blue-green, slightly rippled and has a glaucous bloom on top. It forms pale lavender flowers from mid-July into August and sets viable seeds.

The Hostapedia by Mark Zilis (2009), says that this plant falls into a category of "cultivars that exhibit many Tardiana traits but are not a part of Eric Smith's original group."
The New Encyclopedia of Hostas by Diana Grenfell (2009) states: "Outstanding blue leaf color holds late into the summer provided the plant is grown in light to full shade...Among the bluest of the hostas with all-blue leaves and quite distinct."

An article about favorite blue hostas in The Hosta Journal (2006 Vol. 37 No. 2) reported the responses of the following hosta hybridizers: