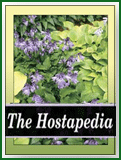 A large size (21 inches high) hosta with a cream colored margin, this cultivar was registered by Paul Aden of New York in 1986. It is a tissue culture sport of H. 'Flamboyant'. The foliage is ovate shaped, slightly wavy and corrugated with better than average substance. Pale lavender flowers bloom in July.
According to The Hostapedia by Mark Zilis (2009), "Its bright variegation and fast growth rate make 'Shade Fanfare' a popular choice for ground cover purposes."
This cultivar has been awarded the Royal Horticultural Society's Award of Garden Merit in the UK.


An article by Warren I. Pollock in The Hosta Journal (1992 Vol. 23 No. 2) states that, "H. 'Flamboyant' with its streaked variegation was a "must have" hosta at that time. The problem was that many who purchased it found that it started to turn - and in many cases had completely turned - into 'Shade Fanfare' a year or two later."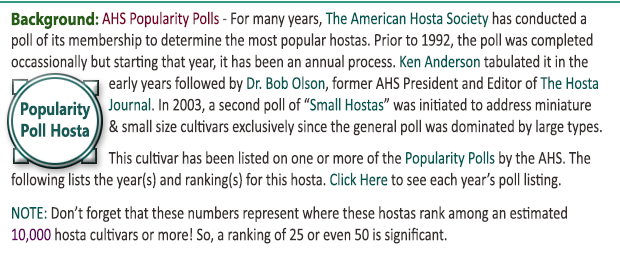 7
16.6

1985 #23
1990 #15
1991 #15
1992 #15
1994 #18
1996 #18
1997 #12