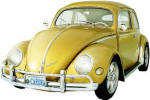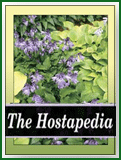 A seedling of H. 'Serendipity', this cultivar was registered by Dr. Dick and Jane Ward of Ohio. The small size mound grows to one foot in height and a spread of 37 inches with slightly corrugated, cupped foliage. It bears pale purple flowers in July.
According to The Hostapedia by Mark Zilis (2009), "...resembles 'Gold Drop' in mound habit and overall appearance."

Gold bug (sometimes spelled goldbug) is a term frequently employed in the financial sector and among economists in reference to persons who are extremely bullish on the commodity gold as an investment and or a standard for measuring wealth. We, on the other hand, have chosen to represent it with a yellow Volkswagon beetle.