An Eric Smith introduction, this cultivar, which is hybrid of H. 'Sieboldiana' x H. 'Tokudama' was registered on his behalf by the British Hosta and Hemerocallis Society in 1986. It has blue-green, cordate leaves that are heavily corrugated and funnel-shaped near-white flowers from mid-June into July. The plant is medium size growing to about 14 inches in height by a width of around 35 inches. It has a thick substance and is considered resistant to slugs.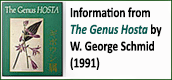 "AHS multiple award winner: Midwest Blue Award, 1980, exhibited by Mervin Eisel; AHS Nancy Minks Award, 1976, exhibited by Alex Summers; Award of Merit, Wisley Trials, U.K. Raised by Eric Smith at Hilliers Nursery of Winchester and named for Buckshaw Gardens, Sherborne, Dorset, UK."

An article about H. 'Buckshaw Blue' by Warren I. Pollock in The Hosta Journal (1996 Vol. 27 No. 1) states that, "This is a superb hosta that has won several AHS awards: 1980 Midwest Blue Award and 1987 Nancy Minks Award. It is a seedling found by Eric Smith at the Hilliers Nurseries, Winchester, England, and taken by him to Buckshaw Gardens from which it received its name...is considered to be a member of the Tokudama Group. H. 'Buckshaw Blue' is one of the best blue hostas, but be warned: It is very slow growing."