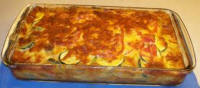 Registered by Tony Avent of Plant Delights Nursery in North Carolina in 1995, this cultivar is a cross between H. 'Hirao Elite' × H. 'August Moon'. It forms a large size (19 inches high x 42 inches wide) mound that has ruffled, medium gold foliage. The leaves are oblong-ovate with deep veins, average substance and an unruly growth habit. Medium purple flowers bloom in July on scapes about 22 inches high.

According to The Hostapedia by Mark Zilis (2009), "Over the years, I've come to admire 'Squash Casserole' as I've seen it in many gardens...has good durability during the growing season, often looking as good in September as it did in June."
The New Encyclopedia of Hostas by Diana Grenfell (2009) states: "...the leaves of this cultivar remain a muted color even when exposed to sunlight."