This Mildred Seaver of Massachusetts plant is an open-pollinated seedling of H. 'Brookwood Blue'. The large size, upright mound grows to about 25 inches in height with a width of 58 inches. Its blue-green leaves are moderately corrugated, convexly cupped, broadly ovate and have thick substance. The near white flowers bloom from June into July in Massachusetts. It sets viable seeds.
This cultivar was originally registered in 1978 and then was re-registered in 2010.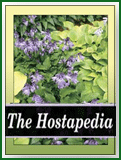 According to The Hostapedia by Mark Zilis (2009), "Unlike many H. 'Sieboldiana'-type cultivars, 'Sea Monster' bears rich green, rather than blue-green foliage."
The New Encyclopedia of Hostas by Diana Grenfell (2009) states: "Very slow to establish, taking up to seven years for the crumpled appearance of the leaves to reach their best...Much used as a parent in the Seaver hybridizing programs."




H. 'Sea Monster' M. Seaver (ONIR) 1978
Plant: 30 in. (76.2 cm) diameter; 19 in. (48.3 cm) high.
Leaf: 26 in. (66 cm) long; 11 in. (27.9 cm) wide; 16 vein pairs; bright green; intensely cupped, intensely corrugated.
Flower: white; Needham Heights, MA; July 1 to July 30.
Seed: seed set unknown.
Clump History: original seedling; Needham Heights, MA.
[H. 'Brookwood Blue' × unknown]


H. 'Sea Monster' M. Seaver (ONIR) RR2010
Plant: 46 in. (116.8 cm) diameter; 24 in. (61 cm) high.
Leaf: 14 in. (35.6 cm) long; 12.75 in. (32.4 cm) wide; 15 to 18 vein pairs; medium green; moderate glaucous bloom underneath, heavily corrugated, moderately wavy; nearly round with a cordate base.
Scape: 29 to 36 in. (73.7 to 91.4 cm) long.
Flower: 2.25 in. (5.7 cm) long; near white; Needham Heights, MA; June 21 to July 10.
Seed: sets viable seeds.
Clump History: original seedling; Needham Heights, MA.
[H. 'Brookwood Blue' × unknown]