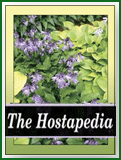 Paul Aden of New York registered this classic, fast growing hosta in 1978 (the actual originator is unknown, however). It is the result of a cross of H. 'Blue Cadet' × H. 'Gold Cadet' which grows into a medium size hosta about 13 inches in height and spreads to 38 inches in width. The color changes from light green to chartreuse to gold as the season progresses. It bears medium lavender flowers from late June into July.

According to The Hostapedia by Mark Zilis (2009), "...similar to 'Gold Drop' in foliage color, mound habit, and flower performance...source of numerous sports and seedlings."
The New Encyclopedia of Hostas by Diana Grenfell (2009) states: "Tolerates full sun all day except in warmer climates. Leaf color is very dependent upon the quality of the light...As the name implies, it is a popular edging hosta."