This bluish-green hosta was registered by Robert Savory of Savory's Gardens in Minnesota in 1982 as a seedling of H. 'Rough Waters'. It forms a very dense, small size mound of foliage usually shorter than 10 inches in height. The flowers are bright purple and appear in late June to early July followed by viable seeds. Great as an edging plant.

The Book of Little Hostas by Kathy and Michael Shadrack (2010) says: "...this easy-to-grow cultivar quickly forms a dense mound. Ideal for the raised bed and the woodland garden or walk."
The New Encyclopedia of Hostas by Diana Grenfell (2009) states: "Grow in a container or as an edging plant in bright light to light shade...Slow to increase...The parent of several superb, even smaller-leaved sports...Among the smallest glaucous-leaved hostas to have distinctly corrugated leaves."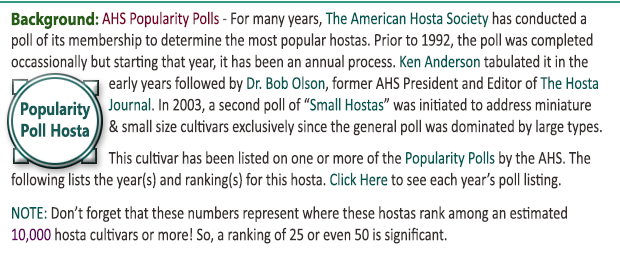 6
2.5

2004 #3
2005 #2
2006 #2
2007 #2
2008 #3
2009 #3