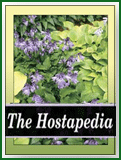 This non-registered hosta is an H. longipes -type plant from Japan. It forms a small size plant with green foliage that has a green and creamy yellow to white medial (center) variegation. It has dense clusters of pale purple flowers borne on 20 to 30 inch scapes in August into September.
According to The Hostapedia by Mark Zilis (2009), "This turned out to be one of the most beautiful hostas that I observed during a three-week trip to Japan in 1991."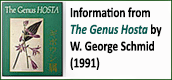 "Okutama Nishiki Gibōshi, the "glorious (brocade) hosta from Okutama" was found in Tokyo Prefecture. It is a whitish yellow streaked form of H. longipes. Viridescent."

Mikiko Lockwood in an article on The Hosta Library titled, A Little About Japanese Hosta Terms defines the term nishiki as brocade (rich-colored woven fabric) i.e. something colorful and beautiful.