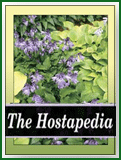 Sandra Bond of Goldbrook Plants in England registered this seedling of H. 'Tokudama' in 1990. It grows into a mediums size hosta about 15 inches in height with a spread of 44 inches. The gold colored foliage has thick substance, is heavily corrugated and is deeply lobed at the base. It bears near-white flowers from late June into July.
According to The Hostapedia by Mark Zilis (2009), "...individual leaves grow to the size of a Hosta sieblodiana-type."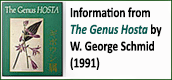 "Plant has round, lutescent leaves and white flowers. The name honors the late Miss Barbara White of Reading, Berkshire, England, who served as secretary of The Hardy Plant Society for 23 years until her death in 1987"