Hostas are irresistible. Their sculptural leaves and appealing textures make it difficult to stop at one, and it is easy to fill a garden with them. Help is at hand with this attractive guide to the popular new small hostas that take up less space and are ideally suited to container cultivation. They can be used on their own or with companion plants to make charming displays on the patio, porch, or even windowsill.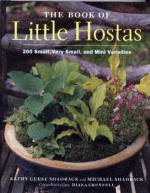 Many small hostas are simply scaled-down versions of classic hostas, while others offer distinctly new attributes in terms of color, leaf shape, and patterning. Like full-size hostas, small hostas can be upright, flat, or cascading; there are varieties that are full of substance, and others that are fine and delicate; there are green ones, gold ones, blue ones, variegated ones, and splashed ones. Some are better garden plants than others, and a valuable function of this book is to showcase the very best of the new introductions. Photographs of the hostas in garden settings show how admirably they respond to imaginative display in a wide range of situations including waterside, woodland, and rock gardens.
Beautifully illustrated and highly informative, this handpicked selection of diminutive hostas will inspire hobbyists and gardeners alike and provide inspiration for new planting schemes.
List of hostas in our database which include information from this source.